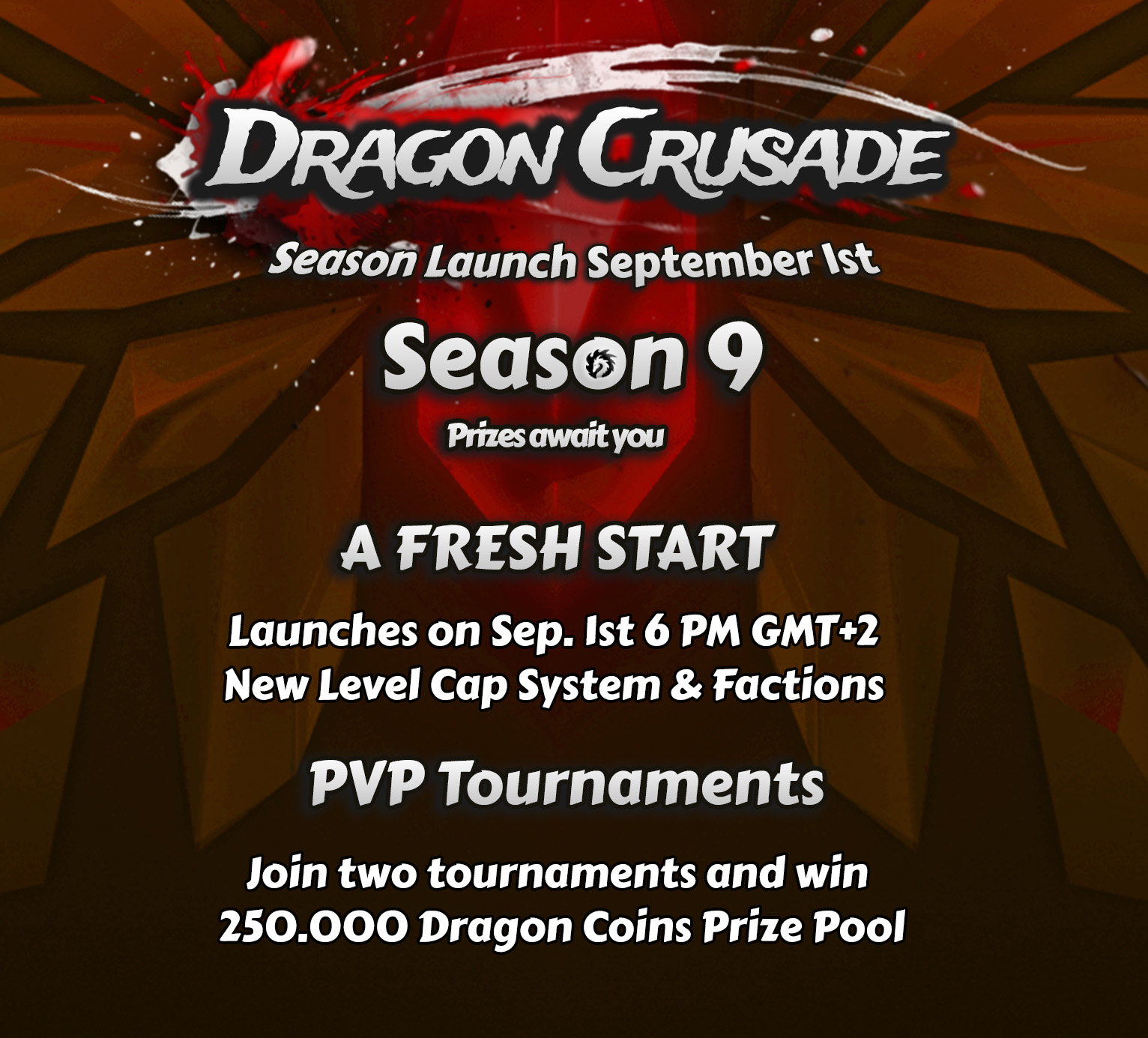 Dragon Crusade Flyff Season 9 Hell Dragons
The Season 9 Server will go online on September 1st 6 PM GMT+2. You can expect a fresh start and a lot of new content.
The season is anticipated to run until December, at which point we will conduct a Discord survey to determine the optimal time for merging with the main server. Rest assured, no characters or items will be lost after the season concludes; instead, everything will be transferred seamlessly to the main server.
Season 9 Tournaments 250.000 Dragon Coins Prize Pool
This season will have two tournaments each with four matches.
The guild gets tournament points depending on the number of points achieved in Guild Siege. New guilds can enter the tournament at any time without registration.
The prize money will be distributed to the guilds in Donate Coins after the tournament. The exact dates of the tournament matches can be found below in the tournament schedule.

Resizeable Inventory Option
Choose between the normal and a resizable inventory in the options menu.

Improved Faction System
Revised UI for better understanding as well as adjusted difficulty of faction map & dungeon.

Hardcore Level Mode
Overcome current level caps by switching to Hardcore Mode, which reduces your exp rate after every level up or death. 

Soft Level Caps
Once you reach the soft level cap you can still level up but only using the Hardcore Mode which will be automatically enabled if you continue leveling.



Improved Server Performance
New server with +50% more CPU speed, double memory and faster hard drives for lag-free gameplay and fast relog times.

Updated Patcher & Client
Revised news display, new self update function and two patch servers that can be changed via the reload button.

Item Finder Demand Mode
Place buy orders in the item finder so that players can sell them directly to you. You have to put the money in the item finder so that the seller gets the money and you get the item immediately.

PvP Server Buffs
If enough players are registered to PvP for Siege, Rumble or Capture the Flag, server events will be started automatically depending on the number of participants.
PvP Fight Time Reward
The longer you stay active in PvP the higher your Penya reward, so players with less kills will also be able to receive rewards.

Improved 250 Slot Guild Bank
New guild bank with 250 item slots for more space for items. 

Tower Defense System
Defend Tower alone or with a group, the monster waves are getting stronger. The more monster waves the towers survive, the bigger your reward.

Item Crafting
Farm crafting material from different places to make magic power ups. 

New Server Events
New events with independent maps await you this season. 

Season 9 Tournament Plan
Points for the tournament are awarded on fixed dates. To get points you have to participate in Guild Siege on that day and score points. The tournament always takes place on Sundays at 3 PM GMT+1. Each tournament match will give you a free level up at any level!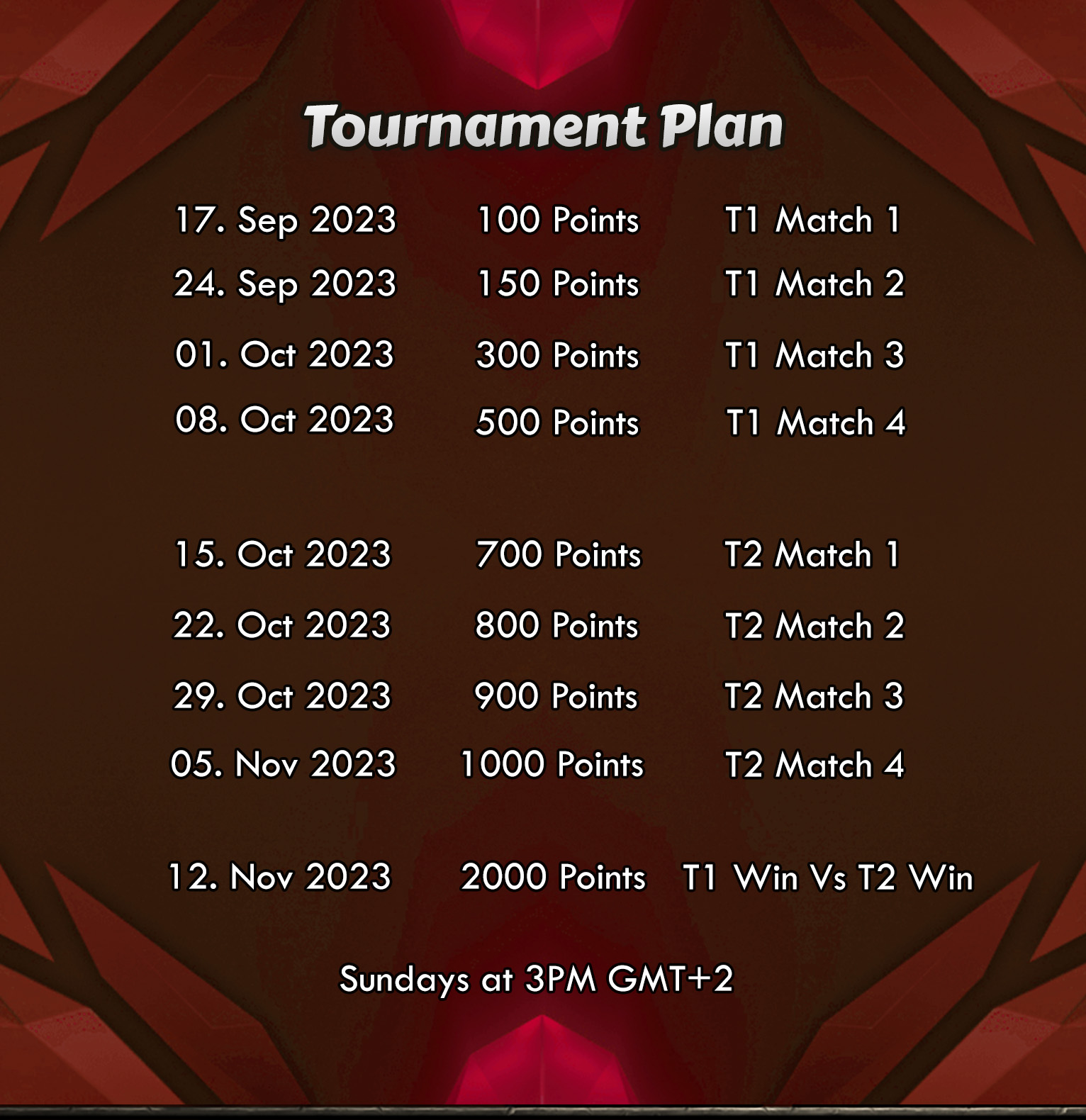 Release Timeline
We will be releasing new content gradually over the season using a dynamic level cap which unlocks two Dragon Ranks every day. We start with a level cap of 150 at May 8 we will start the dynamic level caps.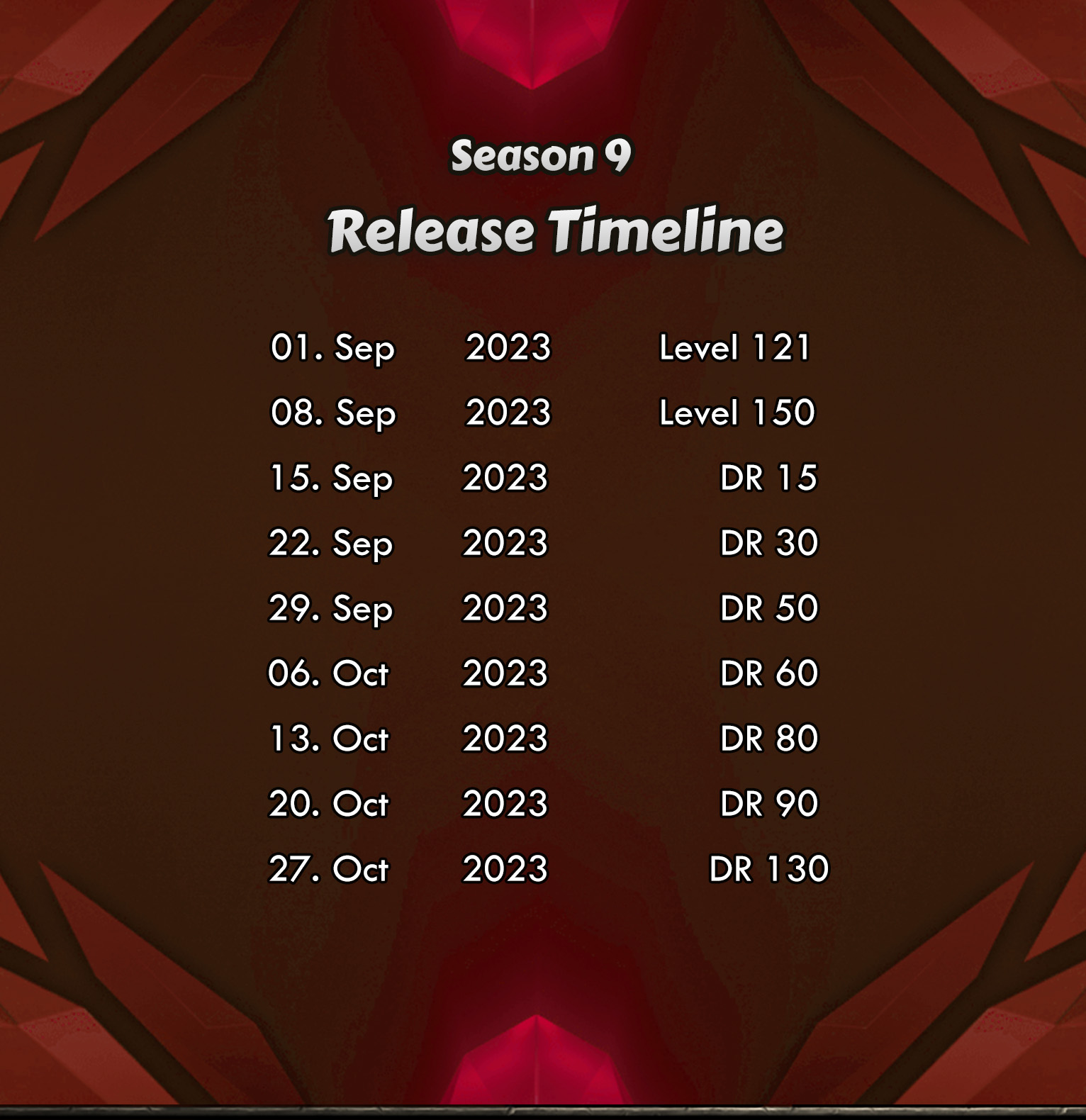 Season 9 Roadmap
We also plan to add new features and updates during the Season. For this purpose, we have created a roadmap of what is to come. Press Read More to see the roadmap.

Season 9 Roadmap:
Guild Finder Enhancements:

Sort by online leaders and display available slots.

Auto Power-Up System:

Transition from manual to an automated system for powering up.

Donator Ranking Daily Updates:

Track and display top contributors to the game daily.

Dungeon Group Finder Corrections:

Address and rectify missing dungeon names.

Direct In-Game Donation Coins:

Acquire donation coins directly within the game's shop or inventory interface.

Achievement Color Coding:

Differentiate between completed (black) and incomplete (grey) achievements.

Achievement Completion Count Adjustments:

Modify completion counts for achievements for clarity and player understanding.

Auto Badge System:

Introduce automated badges for heroes and masters with the faction icon as the default.

Vendor Shop Enhancements:

Implement an item finder button and allow users to prepay and place specific items in the Item Finder.

Penya Collection Modifications:

Discuss potential changes to the current direct inventory addition method.

Pickup Pets' Range Increase:

Extend the pickup range to be beyond the ranger's max distance.

Buddy Leveling Modifications:

Deactivate leveling when buddies are out of range due to reduced XP gains.

Offline Vendor System Improvements:

Refill offline vendors without needing to close and avoid repetitive mail notifications.

Inventory Chest Integration:

Introduce a dedicated button in player bags for easier access.

Info + Reward System Popup:

Guide players with actionable tasks and provide rewards upon completion.

Solo Dungeon Drop Rate Adjustments:

Modify drop rates based on level cap differences to enhance gameplay balance.

Faction UI Revamp:

Enhance clarity and understanding regarding the use and benefits of the faction system.

New Guild Banking System:

Discuss potential of a new or revamped guild bank with added features and larger inventory space.

1on1 to AoE Switch via NPC:

Allow players to seamlessly switch between gameplay modes using NPCs.

New Events & Seasonal Plans:

Design and integrate 1-3 new events for players to enjoy during the season.

Blade's Blade Dance Skill Tweaks:

Optimize animation time and slightly boost damage
Master Your Class (PvE Competition)

Be the fastest in your class and reach the maximum Dragon Rank first. From each class, the first one to reach the maximum level wins one non-purchasable CS sets and one month premium and $50 in Dragon Coins. 
Within the 8 winners one will be drawn who has the chance to win a Cloak of Honor.
Upcoming Features
We will publish all upcoming features in the next few days, moreover, some of them will already be available on the main server in advance and can be tested.
Whats new on the server?
We added a lot of new content over the last months.
You can checkout our features when you click on features in the top menu
Do you still have questions?
Join our Discord Server and chat with us.
You can also contact us on facebook.