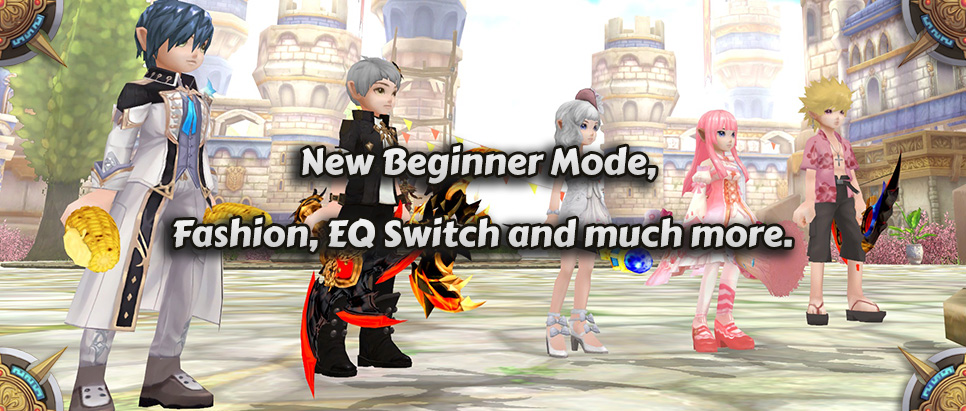 #Patch 5.0 | 17 August 2020
Beginner Mode
• Easy low level dungeon farming.
• Bosses are less strong and can be fought alone.
• Increased drop rate of the event weapons.
• Reduced Weapon-Dust for beginner weapons.
• The mode applies to players below level 115.
• Applies to Tramnuk, Sanpres and Herneos (+Master).
Equipment Switch System
• Save different equipment profiles.
• Create a shortcut for your profiles.
• Switch between the profiles using a shortcut.
Stackable Powerup System
• You can stack your powerups for up to 12 hours.
Ultimate Jewel Removal System
• You can now remove select diamonds.
Socket Card Removal System
• You can now remove selected socket cards.
Move Party Member System
• Change the order of your party members.
• Decide who is getting party lead next.
Safe Upgrade Auto Refill System
• Put a check mark in the checkbox.
• The upgrade will be done automatically
• Until you have no more materials left.
Chat Info System
• Add new info messages.
• Helps you get to know the server.
Skill Tooltip System
• Additional information about the skill damage calculation.
Level Buddy System
• Increase buddy range from 2.5x to 3x.
• Fix level buddy EXP display in party window.
Dungeon Scaling
• The ability to scale each dungeon individually.
PvP Arena
• Add AFK player detection.
PvP Rumble
• Disable beginner protection skill spam.
• Hide guild name & player name in rumble.
• Add weekly FFA ranking reset.
Item Finder
• Add buy and mark button to Item Finder.
Player Lord Event Times
• Add new event time at 8AM GMT+2.
Server Auctions
• Add a additional auction time.
• Time: 10PM GMT+2 and adjust auction rates.
• Update Premium Scroll action to Dragon Perin.
Class Balance
• The balance will be further improved in the next updates.
• Reduce Ranger PvE damage by 9%.
• Psy - Dryad Set (5% PvE, 30 INT, 25% Cast, 20% Atk)
• Behemoth Wand (70 INT, 35% Cast, 35% Atk)
• Behemoth Book (25 INT, 10% Atk, 10% PvE)
• Ancient Wand (25% Atk, 30% Cast, 55 INT)
• Shiny Behemoth's Wand (75 INT, 40% Cast, 40% Atk)
• Shiny Behemoth's Book (30 INT, 15% Atk, 15% PvE)
• Increase Psykeeper PvP damage by 10%.
Dungeons
• Red, Blue and Green Meteonyker hp reduced (15%).
• Make meteos rank super (Penya drops on the ground).
• Add crystal demon as dragon rank monster.
• Add dust cave boss as dragon rank monster.
• Add kheldor quest item normal drop.
Fireland
• Fireland Monster Blockrate reduced up to (50%).
• Block rate is now increasing until Dragon Rank 35.
• Reduce fireland monster damage scale by 20%.
New Fashion
• Black Twinkle Star Set (M/F) added.
• Blue Twinkle Star Set (M/F) added.
• White Twinkle Star Set (M/F) added.
• Oshino Meme Set (M).
• Yashita Set (M/F) added.
• Corny Sword Model added.
• White Cat Stick added.
• Kings Fas Wand Model added.
• Daansel Set (M/F) added.
• 13x Zensoz Weapon Models added.
• 12x Phantom Weapon Models added.
Vote Rewards
• Lucky Level Box (Vote) duration changed to 60 days.
• Lovely Furniture Lucky Box duration changed to 60 days.
General
• Improve disconnect fix.
• Improve unfreeze option performance.
• Bound jewelry can now be unbound.
• Update auction items.
• Update item link font colors.
• Update Ultimate jewelry required level (DR 35).
• Fix world-buff multi channel bug.
• Fix lv. 150 Dragon Rank 1 bug.
• Fix premium collecting time calculation.
• Fix item finder buy window get stuck.
• Fix target info client crash after monster death.
• Fix Dragon Weapon Exchanger.
• Fix Kheldor Cloak Black and White resolution.
• Fix Weapon Level Scroll for Weapon Level 1.